Events
Hartford Courant - 2006 Prop Blast Party
The Greater Hartford All Airborne Chapter Inc.
Invites you to:
THE BIG RUMBLE
Date: September 22, 2018
Northwest Park, Windsor, CT off Rt. 75

---
The Rumble is the largest gathering of Airborne Paratroopers in New England and is free of charge to all Paratroopers and their friends and families. Food, libations, and above all else Airborne Camaraderie are provided this year on Saturday, September 22, 2018.
The Chapter's annual Rumble will again be held at Northwest Park in Windsor, CT. The park is a 450-acre nature center with bike and hiking trails, bird sanctuaries and an animal barn. Outdoor activities include dancing, cards, dominos, softball, horseshoes, and volleyball. The Chapter has an open challenge to all in each event. Our picnic area is a covered shed, which could accommodate a rifle company and is steps away from the playing fields. Public restrooms are also available. As always a delicious buffet style lunch / dinner will be served featuring Poultry, Beef, Pork, and beverages to include beer, water, soda, coffee and tea. Serving begins at 1100 Hours and will continue until dusk.
Troopers Don't Miss This Manifest. It's Your Opportunity to Cruise the 82nd Airborne Memorial highway. Smell the aromas of the CT Tobacco Valley, Eat and Drink like Kings and Queens and, Best of all, be part of the camaraderie that the largest Airborne event New England has to offer. Hook Up Now, and join the Paratroopers of the Greater Hartford All Airborne Chapter, their families and friends.
Please feel free to contact support regarding questions, concerns or special requests. Anyone requiring overnight accommodations should contact reservations.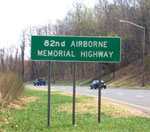 Click here to see some pictures of the 2001 Rumble.
Click here to see some pictures of the 2003 Rumble.